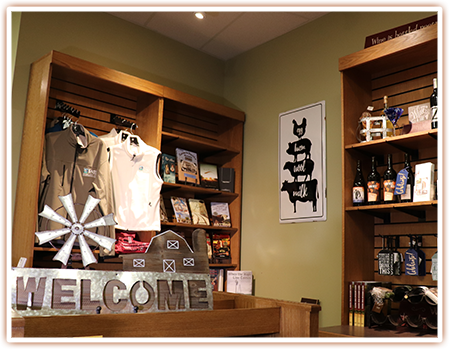 The Store at SAGE Center offers an assortment of merchandise that will allow each visitor an opportunity to bring the SAGE Center experience home. From activity kits for children, to SAGE Center souvenirs and unique gifts, we offer merchandise that appeals to visitors of all ages.
Come by and shop our collection of handmade art and jewelry made in the Pacific Northwest. The Store at SAGE Center is proud to offer local food items such as Calbee North America's Whole Cuts made right here at the Port of Morrow, Painted Hills Natural Beef jerky and more.
The Store at SAGE Center strives to expand the SAGE Center experience by continuing to educate and enhance the knowledge, appreciation, and enjoyment of Morrow County and the Port of Morrow.
For more information, please contact:

SageCenter

portofmorrow.com
Phone: (541) 481-7243
Art

We are proud to carry handmade, locally-crafted items such as Raku pottery and fine wood-turnings.

Jewelry

We host an eclectic collection of jewelry made from a variety of mediums such as fine silver and hand-blown glass.

Regional Delicacies & Wine

Take home and enjoy some of our region's finest fare like Foster's pickled asparagus, Columbia Empire Farms berry preserves, a variety of red and white wines and much more.

Gifts

The Store at SAGE Center is home to a wide selection of gifts, including Clay in Motion handwarmer mugs and Farmhouse Soaps. Browse our collection of unique items for that special gift.